Products
Arndt Organ Supply Company L. L. C. was started in 1966 to fill a need for hard-to-get parts for theatre organs. In later years we have branched out to build complete new church organs and church organ components. As a supply house, we have parts in Radio City Music Hall, St. Patrick's Cathedral, Air Force Cadet Chapel, and many parts of the world: including Great Britain, Germany, Netherlands, Australia, New Zealand, Japan, South Africa, France, Canada, and Sweden.
This list of products is a sample of what is available from AOSC.
---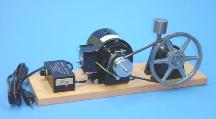 #1094EZ Arndt EZ-TREM
Our new inertia type tremolo is a proven design that has been in use for over thirty years. Built with precision sealed ball bearings and CNC machined parts it will give many years of good service. Our standard model A uses a 1/15 hp continuous duty (UL) motor with a 16 oz. Weight. Other sizes of weights are available for lower or higher wind pressures. Our heavy duty model B uses a 1/10 hp continuous duty (UL) motor with a 43 oz. Weight for use on very large higher pressure reservoirs. Our tremolo is mounted direct to the top (center) of your reservoir (flat top or ribbed) or chest schwimmer plate with wood screws. Using a trouble free relay to control the 110/120 vac fused motor circuit with an input of 10-15 vdc from your tremolo stop tab or knob makes it also possible to use the tremolo on tracker instruments. With the adjustable speed and eccentric swinging weight it drives the reservoir's top or schwimmer plate evenly above and below its normal position giving an even sine wave tremolo. Size: 5 ½" W x 18" L x 6 3/8" H Shipping weight: 16 & 18 lbs. Quiet operation – Small size – Low cost In stock for same day shipment

---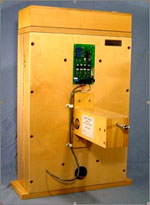 #6080 Arndt Swell Shade Motor
Our single pneumatic "Infinite-Stageless" action uses less wind than multi-stage actions. The wind is only in the pneumatic chamber when the swell shoe is moved to a new position and then the magnet valves close. There are no springs or weights needed to open or close the shutters as the single pneumatic pulls and pushes. It can be set up to open or close the shutters when the organ is turned off. It has adjustable opening and closing speed via slide shutters on action. Simple installation with no programming and only three wires from the swell shoe to the motor control board is a bonus in the field. Travel is 4" with a force of 25-30 lb. at 4" wind pressure. An optional 16/8-stage interface is available for use with swell roller or multiplex systems. Quiet operation – Small size – Low cost. Action is 26"high x 15 ½"wide x 6"deep and 18"deep with stem. Shipping via UPS (31 lbs.) In stock for same day shipment.
---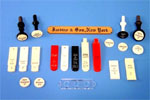 Computer Engraving
We do both rotary and laser engraving on stop tabs, tags, draw knobs, inserts, builder plates, and custom orders. We specialize in matching work for replacement tabs and knobs and also do original matching WurliTzer, Barton, Kilgen, Robert Morton, Moller engraving. We can make custom control plates for switches, clocks, etc. We make draw knob inserts in custom sizes to fit turned wood knobs. Please feel free to contact us with your needs. We give 1 to 4 day service on most orders.

---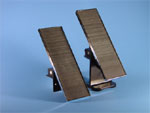 #5000 Series Arndt Swell Shoes
Our line of swell shoes are available in several finishes: Brushed Aluminum, Brushed Brass and Chrome-plated Koroloy. All finishes are available with either round or square corners. All shoes are available in console or pedestal-mount styles. Bearing blocks and mounting frames are black anodized aluminum. Pedestal castings are finished in black powder coat. Pedal tension is adjusted with one sprung cap screw in each bearing block. All bearings are oil-impregnated bronze with a ground and polished steel shaft. Shoes are 3 ¾" x 11 1/8" with a black ribbed rubber mat. All can be used with our MAGNA/PEDAL™ reed contacts, optional slide pot or any contact roller. Ready to install with no adjustment needed. In stock for same day shipment.

---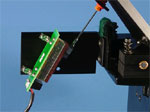 #3003SA Arndt Slide Pot
Our slide pot units are available in 1K, 5K and 10K ohms. There are mounting tabs on the printed circuit board for easy mounting to the shoe frame. We also supply a linkage with bracket to connect to the shoe. Works with any shoe. In stock for same day shipment.

---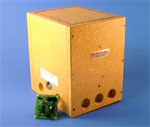 #1094A Arndt Tremolo Driver
This compact solid state device allows control of two characteristics of tremolo: Rate/Speed (beats per second) and Symmetry/Depth (magnitude or intensity) and each may be varied individually. The tremolo driver is easily installed in the chamber or console with five simple electrical connections and the tremolo stop wiring does not carry the load current of the tremolo dump valve device. The driver will handle up to a 5 amp load on the fused output with an input of 10 to 15 VDC and can be used with any type of dump valve. The UL-approved fiberglass P.C. board measures 2 5/8" x 2 3/4". Installation instructions and warranty are enclosed with each unit. Several hundred in use In stock for same day shipment.

---
#1095A Arndt Tremolo Dump Valve
Our dump valve (as seen above) is a redesigned state-of-the-art version of the standard old pneumatic-style tremolo, but built for electronic control of both the rate/speed (beats per second) and symmetry/depth (magnitude or intensity) of each beat using our #1094A Arndt Solid State Tremolo Driver unit. This system gives the same effect (sound) as the old pneumatic units but with better control of speed and depth. Plus, it will dependably start and stop. There is also a slide adjustment built into the bottom of the unit to give extra control of the amount of wind the pallet valve dumps (depth). The unit is supplied with a 3" dia. wind hole which will use a 3" or larger wind line from the dump valve to the chest or regulator. Line length from the dump valve to the chest or regulator does not effect the operation of the unit, but a long or short run may effect the sound of the tremolo. 10 ½" high x 8" wide x 9 ½" deep. Shipping weight is 12 lbs. Several hundred in use In stock for same day shipment.

---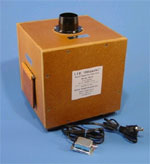 Lee Silent "ORGAVAC" Reed Organ Suction Units
Our Lee Units completely eliminate tiresome foot pumping while at the same time improving the performance of almost any reed organ. These compact units are easily installed and need not alter the organ's appearance. Sizes are available to efficiently power the small parlor organs and melodeons as well as the larger church types (Estey) with subbass, tremolo and couplers. They have sturdy reliable motors with specially designed aluminum fan assemblies made for these units. They are precision balanced and shock-mounted in insulated enclosures for vibration-free operation. Flanges, flexible duct, hardware and under-keyboard switch (wired into the unit) are all supplied, together with detailed instructions for installation. Everything you need is included. 11" wide x 11" deep x 12" high. Shipping weight is 23 lbs.

---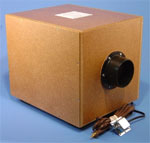 #RO-6 (1/8th hp) 2 ½" suction for up to 6 sets of reeds

#RO-16 (1/2 hp) 4 ½" suction for up to 16 sets of reeds
13" wide x 14" deep x 15 ½" long. Shipping weight is 44 lbs.
Both units manufactured by Arndt Organ Supply Company
In stock for same day shipment

---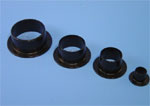 #1127 Arndt Delron Flanges
Our flanges are available in four sizes 4", 3", 2 ½" for use with flexible duct and
1 ¼" for vacuum hose. All are supplied with gaskets. A reasonably-priced alternative to aluminum flanges In stock for same day shipment