About Our Company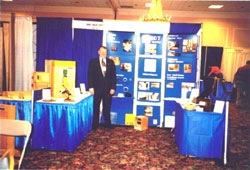 Since 1966, Arndt Organ Supply Company L. L. C. has been making parts for theater and church organs around the world. We have built several new church organs in Minnesota, Iowa and California. We also service church and theater organs locally.
Robert Arndt, owner and founder, has been working in the pipe organ industry since 1962 while he was servicing and installing pipe organs in Midwestern states with his father, Elmer Arndt. AOSC has been in existence since 1966. The very first product produced was a copy of the famous Howard "Wonder" Seat which gave organists support to play for hours of silent movies. Reflecting the concerns and needs of customers, AOSC then began to reproduce many parts and items for the WurliTzer theatre pipe organ, church pipe organ, player piano, and band organ, along with new church and theatre pipe organs. In 1971 we built and moved into our present office and factory facilities in the Ankeny Industrial Park, Ankeny (suburb of Des Moines), Iowa.
Bob Arndt has been a member of American Theatre Organ Society (ATOS) since 1962 and the American Institute of Organbuilders (AIO) since 1980. He is also a member of the local chapter of the American Guild of Organists (AGO). In 2004 he received the ATOS Award for Industry Achievement.